When a person has mobility difficulties, they could find it hard just to get around their home, not to mind venturing out to public places. Within the home, the bathroom can be especially dangerous for a person with mobility issues. The possibility of slipping on a wet floor or losing one's balance during a shower, along with a potential struggle to climb into a bathtub or shower space, all create the risks of accidents occurring in the bathroom. Even getting up from a toilet seat could prove difficult, so homeowners who have mobility problems (or living with people who have) might choose to get bathroom adaptations installed in their home.
At Home Healthcare Adaptations, we specialise in the provision and installation of numerous types of bathroom modifications so that you, or the most important people in your life, can use the bathroom with ease without fear of falling or incurring an injury. Our guide explains the many types of bathroom adaptations that are available.
Types of bathroom adaptations
SHOWER TRAYS
A shower tray allows a person to get into the shower with ease, with low-level trays (40mm or less) requiring only the slightest of lifts and level access trays enabling the person to simply walk in without any lift at all. Shower trays are designed so that water flows instantly into the drain, which makes it less likely for a person to slip while inside the shower. Our stock of shower trays come with anti-slip coating and anti-microbial properties.
SHOWER DOORS
A floor-level shower door provides easy access to the shower for users with disabilities or mobility restrictions, as well as splash protections for caregivers who are assisting. They are very easy to open and close in case a person with a disability is trying to access the shower while on their own.
SHOWER SEATS
A shower seat allows for greater stability and comfort for people with mobility difficulties when taking a shower, saving them the need to stand upright and risk losing their balance. Shower seats can be mounted to the wall or left loose-fitting, depending on the user's needs.
SHOWER UNITS
Shower units can be purchased in either electric or non-electric format. Electric shower units guarantee hot water at any time of the day and work independently as self-contained units, while non-electric shower units take their water supply from the hot water cylinder in the hot press of your home.
HANDWASH BASINS & TAPS
Wash hand basins and taps can be customised to make them ideally suited for disabled users, with adaptions such as lever taps for easy turning on/off and low-mounted basins for wheelchair users. Most taps will have a maximum temperature which ensures that users do not suffer burns from excessively hot water.
RAISED TOILET SEATS
A raised toilet seat makes it far easier for people with limited mobility to stand up from the toilet and will generally be contoured for an even distribution of weight, hence providing greater comfort. They are especially helpful for people who have undergone hip replacement.
GRAB RAILS
Bathroom grab rails and drop-down rails offer tremendous peace of mind to people with physical disabilities by helping them to pull/push when standing up, providing a steady support when sitting down and assisting with balance when moving.
WALK-IN BATHS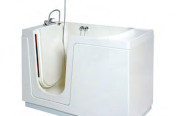 A walk-in bath makes life much easier for people with physical disabilities, as they can simply step into the tub gently rather than needing to climb in and risk losing their balance. They have a low-entry door through which the user can step and then can be closed to seal in the water when filling the tub.
Disability grants for bathroom adaptations
If you plan on adapting your home to accommodate a person with a physical, sensory or intellectual disability, you can avail of disability grants to put towards the adaptation work. Most bathroom adaptations will qualify for the Housing Adaptation Grant for People with a Disability, while minor work can be covered under the Mobility Aids Grant Scheme, subject to means testing. You can clarify with your local authority as to what works are covered by these grant schemes.
Our disability grants page explains the topic in further detail.
How are bathroom adaptations implemented?
• The first step is for the homeowner to request a free site visit from the adaptations provider.
• A specialist will visit your home and assess your bathroom, advising on the types of adaptations that would be recommended and suggesting specific models or sizes.
• After you've identified the products that you need for your home, schedule a date with the adaptations provider for the installation to begin.
• The installation team will remove the old bathroom features and work on installing the new equipment.
• Before the job is completed, every piece of equipment is thoroughly checked to ensure that it is fitted correctly and safely.
• The installation team will ideally ensure that the bathroom is left spotlessly clean after the equipment is installed and safety-approved, at which point you can enjoy your new bathroom.
This video shows an occupational therapy student talking through the various practical benefits of a bathroom that has been adapted for people with disabilities.
Contact us today about our bathroom adaptations
If you need bathroom adaptation equipment fitted in your home, contact us at Home Healthcare Adaptations today. We guarantee you the highest quality of work and service, ensuring that you and your home will be treated with the greatest of care and respect throughout the entire project. Our succession of client testimonials verifies us as a brand of high renown.